Terri Winter is the founder of the hugely popular top3 by design, and a regular contributor to HouseLab. She sources and sells the best designed products and homewares from across the globe, only offering the top three in each category. We love her approach to supporting wonderful design and designers, and she has again been asked to be part of the Good Design Awards, a testament to her reputation and standing in the design community.
We caught up with her recently to talk about the awards and more broadly about design.
Q. You have been a part of the jury for the Good Design Awards previously. What was one of your favourite submissions previously and why?
I have been on the Good Design Awards jury for something like eight years now, I think. Judging for this year is coming up in May. Entries are closing April 4th. A product that stands out for me was Facett, which tackles a health issue – hearing loss – and also addresses the stigma around it to make it more as jewellery than a medical device. Much the way glasses have had a change in perception over the years and are now an accessory.
Closer to home, as in a product that is appropriate for top3 (and we now stock it because I discovered it as part of the Awards) is Chessplus by Christian Simpson. A simple re-invention of the game of chess that was beautifully considered, and he was not a designer so had Adam Laws (Australian industrial designer) produce the pieces.
Chessplus by Christian Simpson
Two other previous Australian winners in the Good Design Awards and two of our best selling products are the memo bottle and Orbitkey. And a non-Australian winner and top seller for us is the Lumio book light. All innovative, functional and aesthetically beautiful 😊
The slick little memo bottle
Q. Who are some of the designers that are pushing the boundaries in Australia, and are you seeing this reflected in what sells for Top 3?
It is always vital to have designers pushing boundaries, of course – but personally, I don't always think design has to be about pushing boundaries. For me, it is important to ensure the product has a need – a valid reason to exist. I enjoy designers who see a need or a problem in their day-to-day life and produce something to solve it. Many of the best-selling products, like the Garject Garlic Press (also a previous winner of the Good Design Award) at top3, do exactly that. Improve your every day.
Recent additions to our range solving everyday needs:
The Cord Roll. Solving the day-to-day bother of headphone and charger cables. A modern day plight 😉
Tooletries is another one. Bathroom organisation without drilling into tiles. So simple and so effective.
But my favourite new product is about to arrive – and just won the GOLD iF DESIGN AWARD in Germany. Balance knives by Paul Cohen are beautiful AND practical. The small weighted magnet slides within the handle to allow you to create the ideal personal balance in use.
How cool are these? Balance knives by Paul Cohen.
Q. Australian design and designers are becoming globally recognised. Are you seeing our own distinct aesthetic emerge or are we still very much driven by our European contemporaries?
I don't think we are following Europe, not in the day-to-day design I work with a lot. Australian design is often inherently practical, but never afraid to be aesthetically beautiful as well.
Pulling together the range at HOME.GROWN where we had 50+ Australian designers and brands from our range reflected – it was wonderful to see how diverse it all is. We don't have to label it with a particular aesthetic for it to be Australian.
The set up at Home.Grown
Q. What pieces are you selling that you think really embody the Australian Aesthetic
Addition Studio probably embodies the way we value health and well-being, and are continuously striving for work life balance. The wellness category is huge now and Ryan Hanrahan has certainly created a new direction in a market that was very female focussed and fussy and pretty. Honest use of materials and shapes embodies the Australian design aesthetic. His range does not jump up and down and scream look at me, it quietly gets on with doing it's job and doing it beautifully. That is very Australian I think.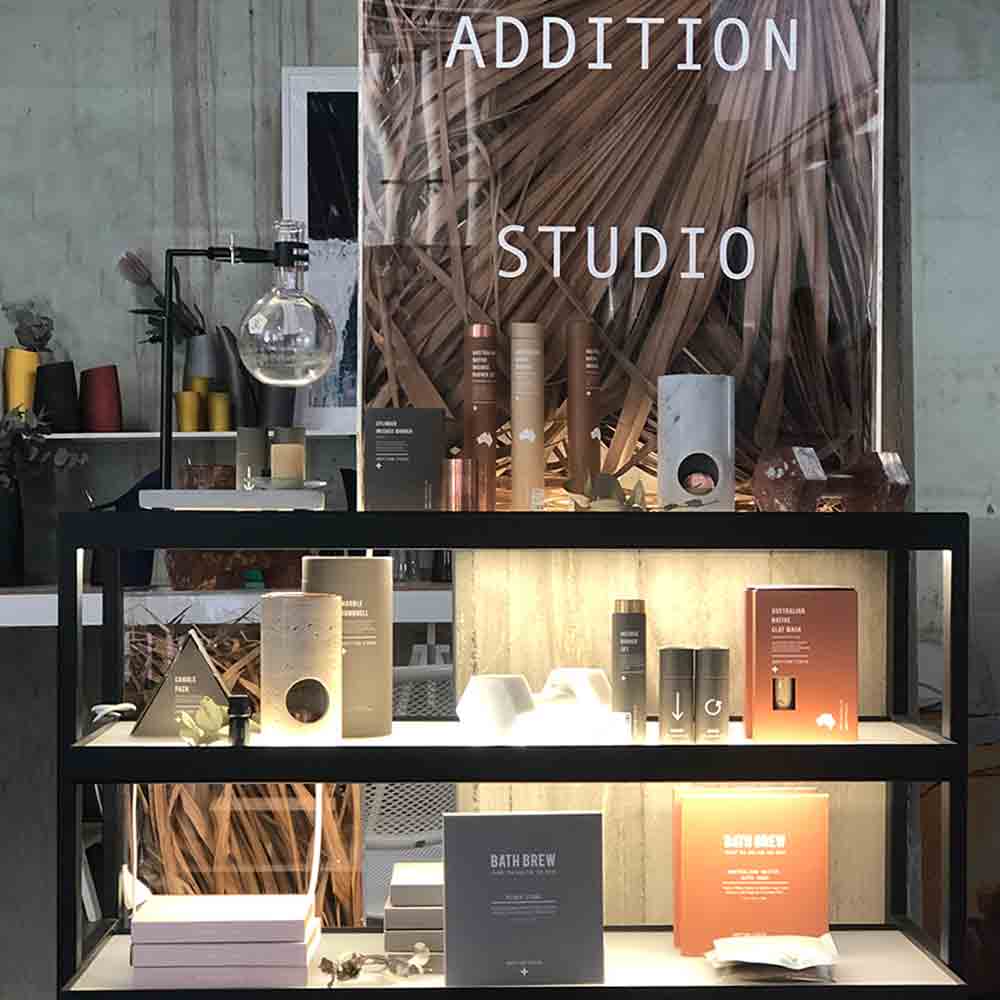 The impressive Addition Studio range
Q. Has the percentage of Australian design items grown significantly in what you sell and is this driven purely by demand or partly your desire to promote local talent?
It has grown quite a bit, and I think it is a combination of both. I never isolate my selections based on whether they ARE Australian or not – the pieces I stock are great and happen to Australian too. They stand shoulder to shoulder with the best in the world. Customers are embracing Australian product more and more as well, which is really nice to see. There is a perception Australian design is expensive, it just is not necessarily true. Australian designers do prefer to use good quality materials so the price may be higher than a cheap product without care for such things – but that is reflective of the true cost of making a product properly, not a reflection on it being Australian. Much like European brands that can be perceived as 'expensive', it is about doing things right. Poor quality imports sold at ridiculously cheap prices have created an across-the-board unsustainable perception of what things are actually worth. Lamps cannot be $20 and be good for the planet, and upholstered armchairs for $49 cannot be made with quality materials or with proper labour protection. That is a whole topic in itself!
I do love to work with Australian designers and brands though – it is so inspiring to see their process and be part of their journey so I find it personally very rewarding when they do well.
Q. What are you hoping to see and experience in this year's Good Design Awards?
I am always looking for something inspiring – something that makes me wonder how someone had not thought of that before. I was quoted at the awards as saying that I believe that good design is invisible – and by that I mean it is inherent in the product and its use. It is not jumping up and down demanding someone look at it! I am hoping to find some products that will delight me.
The delightful sway lamp
Q. How important and relevant are these awards and what measurable impact do they have for the winners? For example would it mean you would promote the winners through your stores?
Awards are a vital way for designers to be recognised amongst the noise these days. I am a huge advocate for buying less and buying better, and – much like the way I curate my selection at top3 to save people time in research – the Awards distill down the products on the market to help consumers find what is good design. It does not even have to be the winner to be a great product. Sometimes it is so difficult to compare such varying products. To know that industry experts and specialists in so many areas of design have collectively assessed and really USED these products means the tick of approval they receive from the Good Design Awards can make customers feel safe they are buying well.
I have discovered and stocked many products from the Awards, so having an avenue to sell your products with top3 could very well be an advantage to some entrants. Although we don't stock medical devices, submarines or cars – so not all winners will be right for top3!
Q. What do you see as the key changes in design demand from your customers over the past few years?
Customers are certainly understanding more that they have a responsibility to buy less and buy better. Quality product at fair prices is what customers demand. Sustainability should not necessarily be a category these days – it should be part of every product's design process, and customers want to see that a company values our planet.
Thanks so much for your time Terri, while the entries have closed we can't wait to see what's to come.
Terri sitting in a Jo Irwin designed bath for Marblo Luxe bathware in conjunction with Axolotl

WRITTEN BY HouseLab