According to Tasmanian furniture designer and maker Simon Ancher; 'People are now turning to smaller, bespoke makers instead of buying mass-produced, high-street furniture.' It is a shift that makes businesses like Ancher's more sustainable, but the long-term benefits are there for the consumer as well.
One example is a recent commission for a custom upholstered sofa, made from Hydrowood Tasmanian oak that has been reclaimed from Lake Pieman in the state's North-West. 'In this case, the client asked for this timber to continue the local story,' Ancher tells us. 'Though, because of the tannins that were preserved underwater, it has a colour that is more in keeping with American oak or blackwood.'
The tannins retained in Hyrowood Tasmanian oak give it a colour more commonly found in blackwood or American oaks.
'Colour is the more common thing clients are concerned about with timber, especially when it comes to things like beds.' The challenge for makers like Ancher is to balance the workability of a certain timber species with a client's aesthetic expectations and his own ethical rule-set.
Working in the heart of the Australian timber landscape, Ancher only uses timbers that are sustainably sourced, though it is more than the timber selection that is important for the longevity and sustainability of his work. 'Using finishing oils like Osmo mean with some ongoing care you can keep the finish of timber as good as new for many years.' This is a benefit that finishes like two-pack polyurethane don't provide, as once they are scratched it is much more difficult to repair them.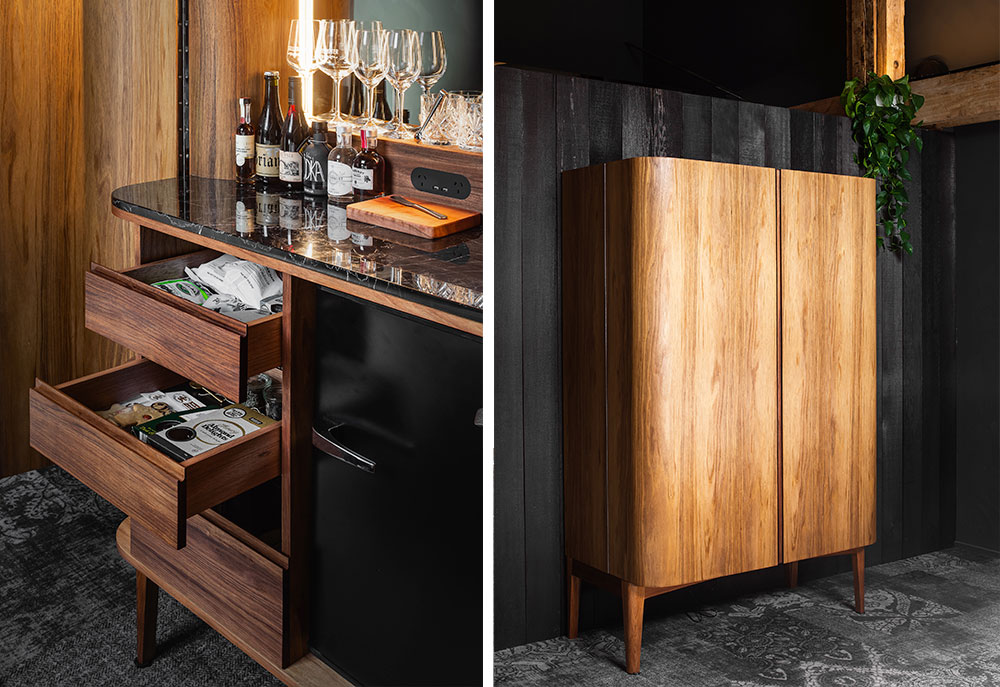 Simon Ancher Studio's cabinets for the rooms at Stillwater Seven are finished in Osmo oil meaning the surface can be repaired over time.
For the joinery and furniture of the rooms at Launceston's Stillwater Seven, designed by Cumulus Studio, Ancher used Tasmanian blackwood finished with Osmo, which provides a natural appearing, food safe finish that can be reapplied in heavy use areas such as drawer and door handles.
As wood is a natural material it breathes – taking on and releasing moisture. Using oils that penetrate the surface, the timber is protected from within and can continue to breathe naturally. Other finishes trap moisture within the timber meaning it is sealed and in humid areas or dramatically changing climates this can result in swelling and timber damage.
Taking sustainable finishes a step further, Australian company Whittle Waxes produces finishing oils made from a base of natural and sustainable materials that are available in a range of colours for floors, furniture and exterior use.
The Gatwick bathroom vanity by Ingrain makes the most of the features in Hydrowood Tasmanian oak.
As with Ancher's sofa, Melbourne's Ingrain Designs' range of reclaimed timber bathroom vanities don't hold the visual stigma of being recycled. Their Gatwick bathroom vanity, also made from Hydrowood Tasmanian oak and finished with Osmo oil, makes the most of the naturally occurring figure in the timber, and being made locally can be customised in length.
These connections between the work of Ancher and Ingrain highlight Ancher's observation of a shift toward locally made timber pieces with a sustainable character.
HOUSELAB HINTS
Follow the directions on the tin when it comes to oiling timber though generally:
begin with a light sand using a fine grit paper
make sure the surface is dust free and clean
apply a light first coat using a brush or roller (a mohair short nap roller is best)
once dry lightly sand using a 240 grit paper
apply a second light coat and allow to dry
These same directions can be used to re-stain or repair a surface and you can use your HouseLab account to remind you when it needs doing. You can also upload the oil type and additional application information easily from your phone or desktop.
_
CLICK HERE FOR MORE INFORMATION ON HYDROWOOD
FIND OUT MORE ABOUT SIMON ANCHER STUDIO AND INGRAIN
CLICK TO EXPLORE OSMO AND WHITTLE WAXES
WRITTEN BY HouseLab