Combining hi-tech with craft in sculpturally functional forms, the recent design fairs across the globe revealed some exciting new directions in lighting, which are more than just decorative.
Over recent years designers world-wide have harnessed the power of LED (Light Emitting Diode) technology, being able to create extremely minimal luminaires using lighting strips or globes that are much smaller than the tradition filament globes. Lighting design has become more a sculptural pursuit – whereby the light is a work of art when it is turned on as much as when it is turned off.
The Arrangements system acts as a lighting source and a room divider.
Leading the minimal revolution is London-based Michael Anstassiades, whose work under his own brand and for Flos has pared back our image of lighting to the bare essentials. This reduction of form has opened up new potentials and Anstassiades' Arrangements series for Flos highlights how designers are bringing new purpose to decorative lighting.
Arrangements is a modular, geometric lighting system that can act as both a chandelier or a room divider. Formed of numerous interlocking shapes it was presented as an installation in Milan titled Jewels after Jewels after Jewels, fitting for a piece of design that resembles a giant chain or pendant. Anstassiades isn't alone in creating lighting systems that have an architectural aspect, with Flos also releasing the Infra-Structure system by Vincent Van Duysen that uses magnets to connect different light sources to a grid.
The linear lines of the Mile lighting collection among a hanging garden in Stockholm. Photograph by Arseni Khamzin
These systems are hi-tech and based on electrical engineering commonly used in more architectural lighting – now available in our homes. The modular nature gives us endless options for composition and these can be re-configured without the need for technical knowledge. Similarly, the Mile collection by Guillaume Sasseville and Lambert & Fils illuminates new ways of thinking about light as seen through the Symbiosis installation at the Stockholm furniture fair where the lights were hung among a suspended garden.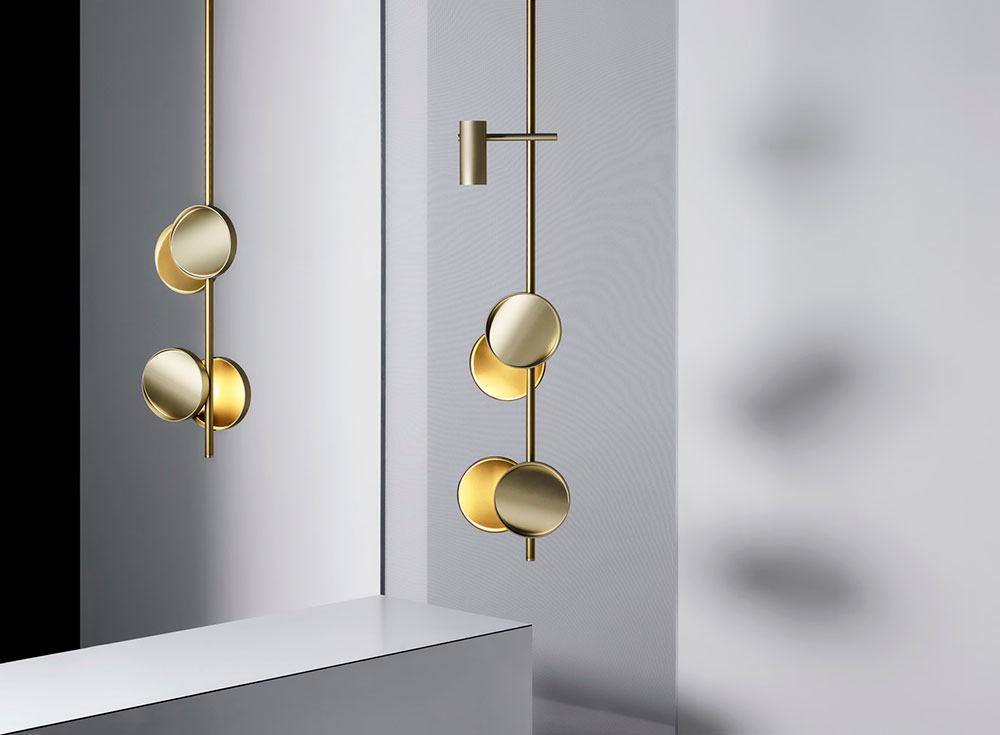 The Typography collection by Studio Truly Truly for Rakumba is as flexible as it is functional. Photograph by Haydn Cattach.
Australian lighting designers are also getting some serious attention internationally with Rakumba, launching their multi award-winning Typography system by Studio Truly Truly in Germany recently and Ross Gardam releasing his Nebulae light at ICFF in New York this month. Again, they are highly technical solutions to decorative lighting that offer additional function but LED technology also applies to more traditional lighting as well.
British brand Established & Sons have been known to push the boundaries of contemporary design since their launch in the early 2000s and the Filigrana collection by Sebastian Wrong brings craft and technology together. Hand-blown in glass from the Venetian region, each light is unique and the patterns resemble illuminated boiled sweets or perhaps the Paline de Casadas (water poles) of Venice. It is a motif reflected in the new collection of handcrafted Italian marble lights by Bethan Grey – derived from Victorian tea sets and the stone configurations of historical European buildings.
The Caged collection by Buster + Punch - derived from the skyline of London, uses LEDs that can last up to 27 years.
Also taking reference from architecture, Buster + Punch's new Caged collection is inspired by the skyline of London though the industrial forms and familiar appearance of the globes are deceiving. They use dimmable LEDs and suggest a life span of 27 years, consuming 1/50th of the energy of traditional light bulbs.
Established & Sons creative director with the Filigrana and Light Light collections - combining heritage and technology in Milan, April 2018. Photograph by Matteo Cuzzola.
This combination of history and hi-tech can again be seen in Light Light by Swiss designer Dimitri Bahler, also for Established & Sons. A sphere of crumpled Japanese Washi paper, balanced perfectly on a 6mm carbon fibre rod. Like the double meaning of a pendant in Anstassiades' Arrangements, the name of this light describes its form and its function as the design is only possible using cutting edge manufacturing techniques, and of course, LEDs.
So, the real take home from the new world of lighting is that it's far more than just decorative. It is becoming more sustainable, more affordable in the long run, and ultimately more flexible in its ability to define spaces aesthetically and architecturally.
_
Flos are distributed in Australia by Living Edge and Euroluce
Established & Sons, Lambert & Fils and Bethan Grey are also available through Living Edge
The Typography system by Rakumba is available through Cafe Culture + InSitu
WRITTEN BY HouseLab