When we – as furniture designers, makers, architects and builders – think of oak we think of the more commonly known white oak though American red oak, which amounts to twenty percent of American hardwood forests, holds some beautiful surprises and benefits we may not be aware of.
They called it the Blushing Bar, part of the Wallpaper* Handmade X: With Love exhibition in Milan earlier this year, designed by British architects Char + Eayrs and made by Sebastian Cox . And blush it did. A circular timber bar made from American red oak, carved to reveal a red stain that had been injected into the timber, accentuating the grain and revealing one of red oaks' most attractive properties.
'We interpreted X as both '10', for Wallpaper* Handmade's 10th anniversary, but also a kiss for love, hence the name and colour of the bar. Love makes one blush, and the heart pound; increasing blood circulation through the body through our veins,' says Merlin Eayrs. 'Red oak has a pinkish flesh-like hue, and a porous nature which has capillaries and veins so open you can blow through a short section. These wood veins have been pumped through with deep pink dye by Sebastian Cox, like blood-filled veins through love struck flesh.'
A CNC router carves the Blushing Bar to reveal the injected red stain.
With its external facades and sensuous carved feet, the bar combines sculptural qualities with functionality, while celebrating the unique properties of the timber it is made of. 'Red oak is an incredibly open-grained porous material,' says Sebastian Cox. 'When you shave a thin slice of it and put it against the light, you get this beautiful dappled effect through the xylum and its distinctly large spring growth.'
Ironically, that pinkish hue isn't the reason red oak has its name – it is actually because of the vivid red colour the leaves assume in autumn. Naturally there are other differences between the oaks where red oak leaves have sharper lobes, while their acorns have rounded tops and fall once every two years. Facts that have been explored in the development of the Oak REDefined installation at this year's DENFAIR show in Melbourne. Designed by architect and furniture designer / maker Adam Markowitz, in collaboration with Marcus Piper and made by Evostyle, the installation is made entirely from American red oak and explores this lesser understood but prolific species.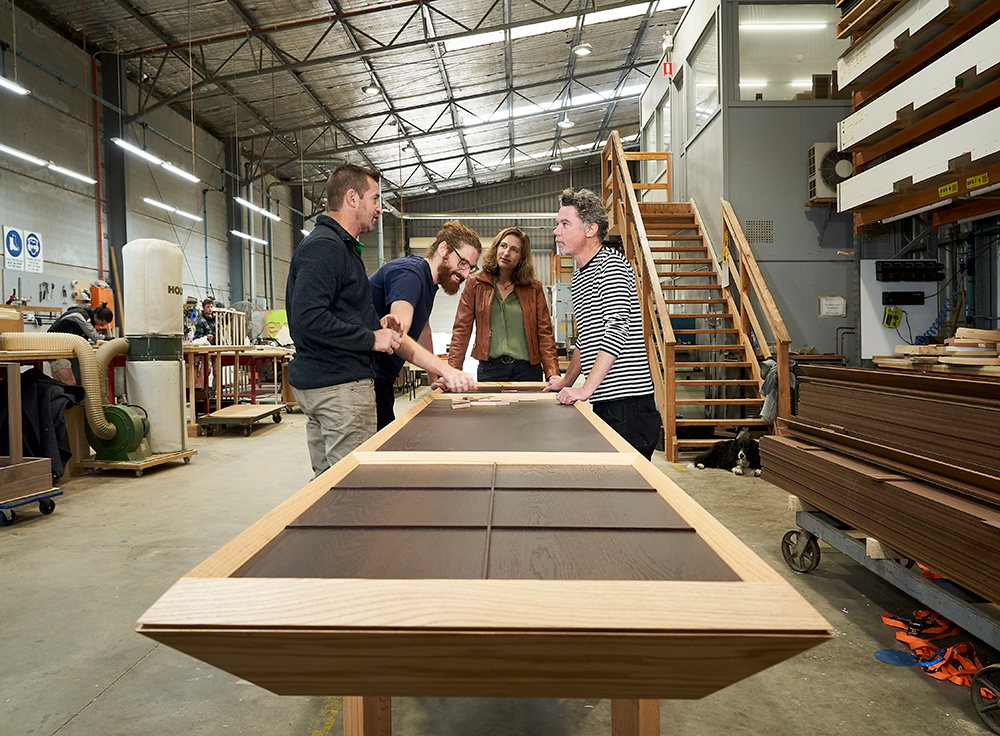 Luke Ommundson, Adam Markowitz, Louise Ommundson and Marcus Piper discussing the American red oak table for DENFAIR. Photograph by Tim Robinson.
Natural, stained and thermally modified timber combine to tell a story of this versatile hardwood. 'It's an interesting species for me to focus on because I think, for Australian architects, most are not even aware of the different species of American oak,' says Markowitz. 'I think it's important, given the quantities of American oak specified by Australian architects and designers, that they understand more about what they are choosing and why. There is a difference between American white and red oak, and for me red oak is a very interesting species because of its porous stain absorbing attributes that are very different to that of white oak.'
In demonstrating this, Markowitz has taken the opportunity to create a respite for visitors at Australia's premier design exhibition. Drawing on the extensive research that demonstrates the impact of natural materials on workplace wellbeing and productivity, Markowitz has created a range of different moments, from a breakout hot desk to a relaxation area, as part of the oak REDefined collaboration.
A detail of the walls for the Oak REDefined installation in thermally modified red oak. Photography by Tim Robinson.
Designed to consider the details essential to comfort – subtle curvature on hot desk edges to reduce strain when typing, and slimline cable management solutions obscuring the necessary but visually unappealing technology – Markowitz has demonstrated that with timber, functionality and beauty are seamless. A tangram table introduces a playful puzzle designed by leading graphic artist, Marcus Piper, offering some mindspace amidst the visual vigour of the show, welcoming visitors to relax and recharge.
So why, ultimately, should we be turning our attention to the redder of the oak family? For Markowitz, it is simple. 'In most cases the two species are very difficult to tell apart by observation alone and so for many applications there is no reason not to specify red oak as frequently as white oak as it's the more abundant of the two species.'
_
For more information on American red oak click HERE
WRITTEN BY HouseLab