Choosing the right timber for the task is one thing but deciding how it needs to be finished is another, and equally as important. More than just staining – the detail really begins with the grain.
Take American red oak as an example, a readily available timber that is both sustainably grown and good value, with a similar grain pattern to American white oak. The difference is that it is more porous, making it perfect for staining in applications like floor boards. Its porosity is the reason it isn't used for wine or whiskey barrels, though treated right it can cope with a spill or two over time.
Greg Natale with his Stripped seat for AHEC, produced by Evostyle using charred American Red Oak and Tulipwood. Photograph by Tom Ferguson.
It can also be treated in different ways as designer Greg Natale showed in his Stripped piece launched at DENFAIR in 2016. Combining American red oak and tulipwood the roots of the concept were in the contrast of finishes.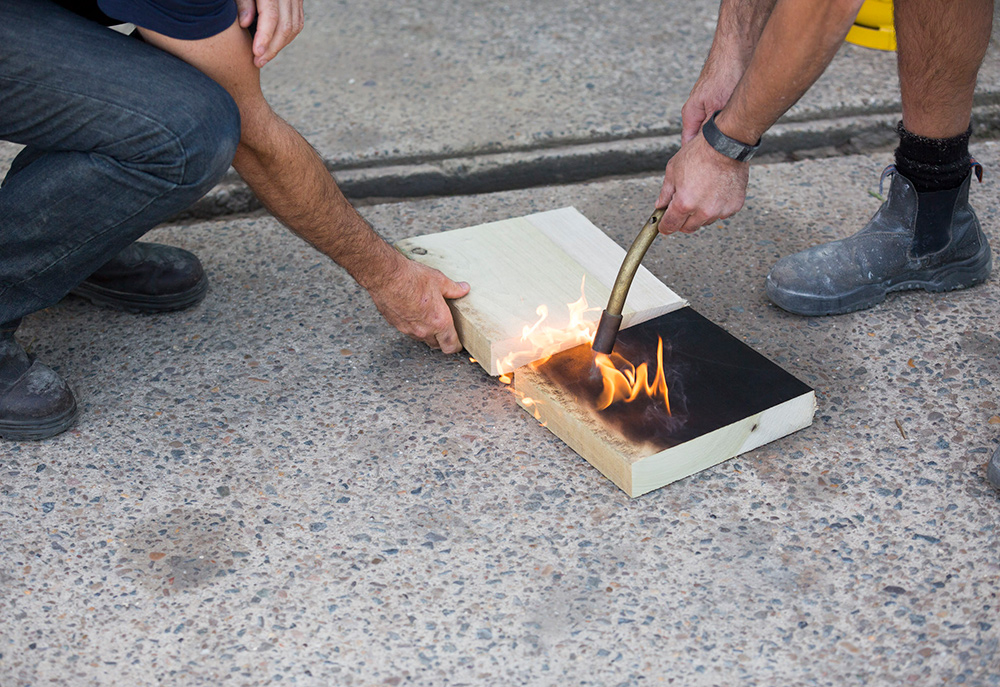 Using a blow-torch on timber then covering it in resin can create contrasts for furniture and exteriors. Pictured here is a test of Greg Natale's Stripped seat for AHEC, produced by Evostyle. Photograph by Tom Ferguson.
Opening up the grain of the oak with a wire brush, the timber was then carefully charred and offset by a lime dust treatment to the tulipwood, giving it a milky white appearance. The technique of charring timber is part craft and part science, great for furniture and exterior applications if done correctly, and through these kinds of experimentations the modern-day furniture maker is no longer just good with the tools.
Mixing things up, you can finish timber in many different ways – shifting aesthetics whilst retaining the integrity of the original material. Processes like tea-staining or ebonising can turn a blonde timber to black in seconds using chemical reactions to create stunning effects.
This custom outdoor setting by Nathan Day Design in Western Australia is actually made of Jarrah, though the red tones have been darkened through a process called ebonising.
Applying an iron-acetate solution triggers a reaction in the naturally occurring tannins of certain types of wood turning it black, a process equally easy to reversed using oxalic acid as demonstrated HERE by Western Australian designer/maker Nathan Day. Tea-staining, which is a little bit more DIY, requires a bit of practice but essentially it requires leaving steel wool or nails in vinegar for at least ten hours then brushing steeped tea onto the timber followed by the vinegar mix.
Of course, these methods take time to perfect, as do the mixtures, but they are a little safer than actually burning the timber with a blow-torch.
When it comes to coating timber, it really does come to the purpose and how much effort you are willing to put in to maintain how it looks. Polyurethane coatings are hard wearing but, if scratched, can be very hard to repair. Using high quality oil finishes is a better option as marks can be sanded out and the surface re-oiled.
Another nifty DIY trick is to coat table tops and chopping boards with lemon oil. Mixing lemon juice and olive oil in a simple water sprayer, applying the oil is simple but does require a bit of sanding and a few coats to get it right. Similarly, a soap finish – created using soap flakes and hot water – scrubbed into the timber leaves a protective, waxy coating that feels great and smells nice too.
All of these techniques require a bit of investigation and some time invested though they can be worth the effort in both personal satisfaction and the longevity of your possessions.
_
TO DIY or NOT-DIY?
Tea staining, soap waxing or lemon oiling – easily done at home but test your mixture on an off-cut or the back of the timber first, most ingredients can be found in the kitchen or the laundry.
Charring – unless you are familiar with a blow-torch then don't try this at home and absolutely NOT indoors.
Oiling floorboards or decking – this requires professional tools and understanding to ensure you don't damage the timber, consult a specialist.
WRITTEN BY HouseLab