With our desire for exotic hardwoods outstripping supply, new and sustainable innovations are being developed to turn timbers not normally used outdoors into a long-lasting option.
To boil it down, there are a few crucial factors in selecting timber for use in outdoor applications, especially in the diverse climate of Australia. Dimensional stability and decay resistance are the main considerations before looking into the grain, colour or features of a timber species.
In Australia, our preference has been for tropical hardwoods though supply is limited due to forest sizes and certification requirements, which tropical hardwoods fail to meet. In contrast, the American hardwood forests are a vast resource that have been sustainably managed for generations. Selective harvesting of mature trees allows younger ones to flourish. Simply put, the forest is regenerating faster than it is cut - in fact, the standing hardwood volume increases by around 130 million cubic metres each year. As timber is an excellent carbon store, it should not really be a surprise that careful management and responsible processing and transport means that the environmental impact of importing American hardwoods to Australia is negligible.
The Copperwood house in Indiana by HAUS Architects is clad in untreated thermally modified American ash.
The thermal modification of American hardwoods makes them ideal for our Australian climate. Thermal modification is a simple process – the timber is subjected to high temperatures in a controlled environment, the result being the permanent alteration of the wood's chemical and physical properties. It does not absorb moisture and is more dimensionally stable that in its pre-modified state. In situ it is less likely to warp and twist with changes in humidity. The process also removes any nutrients from the timber thereby eliminating any food source for insects and fungi making it decay resistant.
More affordable than the traditionally exotic species, thermally modified American hardwoods offer an appealing grain and come in larger sizes, making them well-suited to cladding or outdoor decking, and globally they are gaining a great deal of attention.
The Copperwood house in Indiana, clad in unfinished and thermally modified American ash, was designed to age with the timber taking on a darker tone over time. The more visible grain combined with its stability made it the perfect choice for the architects, and eliminated using oils or laquers. Similarly in London, the Church Crescent project by Evonort Architects uses American white oak to complete its finely detailed exterior.
On a larger scale and far more exposed to the elements, the Bostanlı Footbridge and Sunset Lounge in the Turkish city of Izmir use thermally modified American ash to keep its angular aesthetic in check. Given the public nature of this project, its proximity to water, and the diverse climatic shifts it endures – the architect's faith in the timber demonstrates it is perfect for the Australian outdoors as cladding, decking and joinery.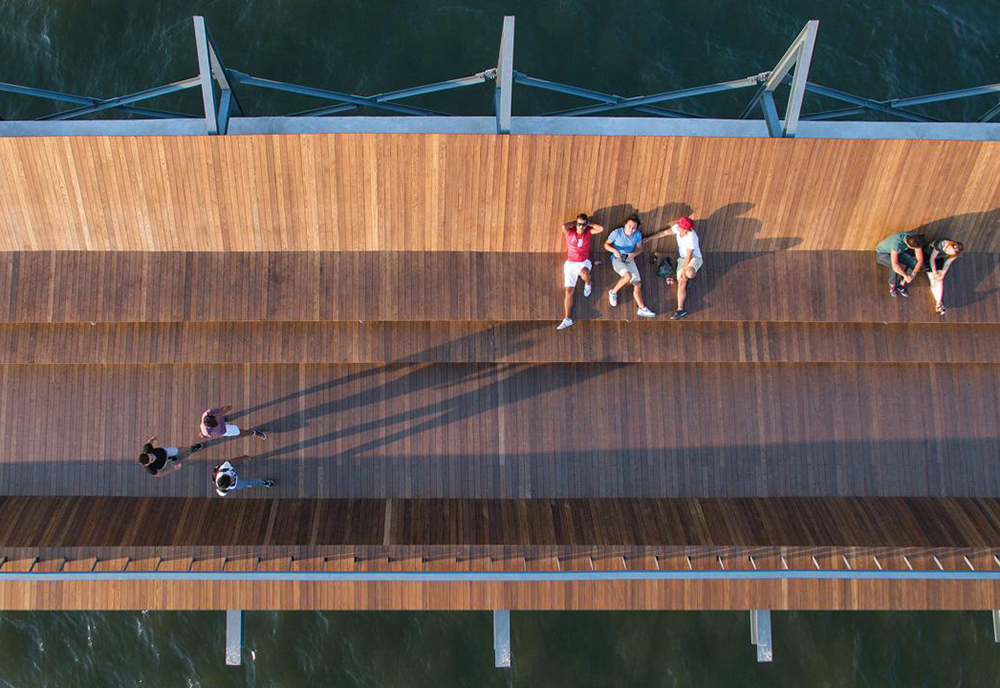 The Bostanlı Footbridge and Sunset Lounge in the Turkish city of Izmir use thermally modified American ash.
It is something Australian designer Ben Percy picked up on for his Ash Bench created for Sydney Indesign in 2013. Designed for outdoor use in Australia, Ben selected American ash, that of course is thermally modified.
While the availability of these modified hardwoods is relatively new in Australia, the fact that they have been used in projects like the Hungry Fox café in Essendon Fields shows that they hold qualities worth investing in for our homes. Using thermally modified tulipwood for the exterior entry, the homely building is exposed to the contrast of Melbourne's winter and summer – a true test that shows through extreme temperatures, exterior timbers have a new and more sustainable face.
For more information on American Hardwoods click here.
_
HOUSELAB HINTS
- With the minimum of care, thermally modified tulipwood can be expected to last a long time.
- Thermally modified timbers are very stable compared with other timbers traditionally used outdoors. They do not absorb moisture and are less likely to warp and twist with changes in humidity. They are also decay resistant. Simply put, they look great and need next to no maintenance.
- The vast US forest resource has been sustainably managed for generations. The forest regenerates naturally more quickly than it is harvested. When US timbers arrive on Australian shores they are still carbon negative. For the environmentally aware it is an obvious choice.
WRITTEN BY HouseLab