With the population growing at an extreme rate and politicians trying to balance the ethical and economic books on energy production and emissions, how can creative thinking help make our planet more sustainable?
We all know the saying "less is more" when it comes to design, but these days perhaps the focus should be on more – making things more sustainable, more affordable and more about what we actually need. It isn't so much about greenwashing, it is about finding new ways to keep our desire for the new up-to-date without letting things go to waste. And on the frontier of this thinking, Tasmania is the epicentre.
A founding member of Nightingale Housing, Andrew Maynard of Austin Maynard Architects is one of the many University of Tasmania alumni who is making positive changes in architecture. The much celebrated Tower House turned a typical Melbourne bungalow into a micro-village, accommodating the growing needs of the family – not just in the present but for the future.
It may seem extravagant to build multiple dwellings on a single site but in doing so it ensures every member of the family has their own space, and the composition of the village optimises passive solar gain. Combined with double-glazed windows and high-performance insulation, the need for heating and cooling is drastically reduced.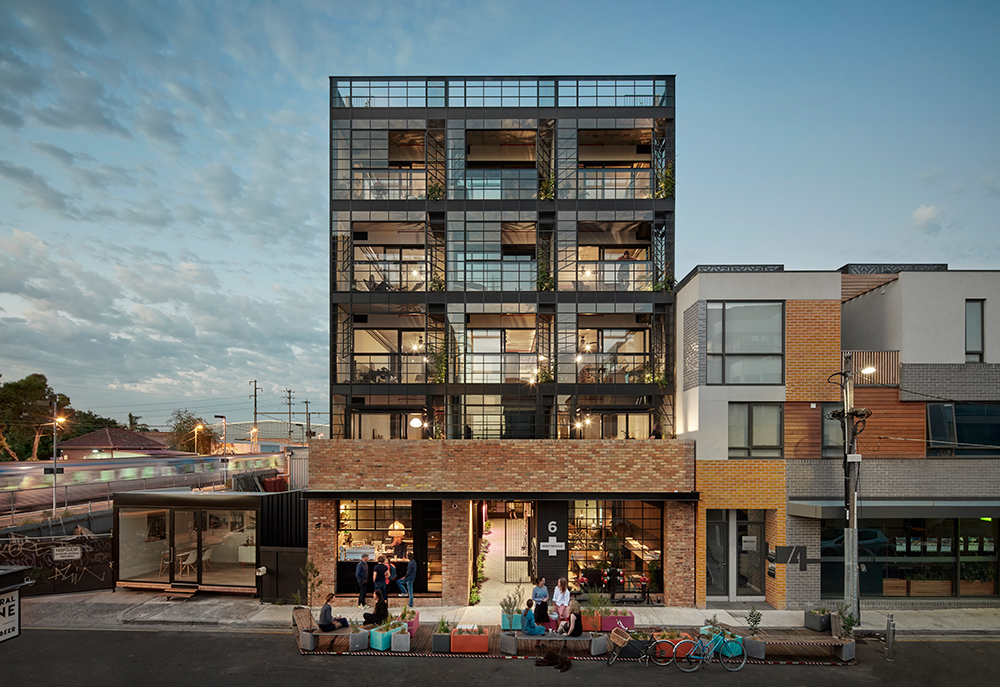 Nightingale 1.0 in Melbourne is centred around creating inner-city homes that link together. Photograph Peter Clarke.
Maynard's fellow UTAS graduate, Jeremy McLeod of Breathe Architecture, was instrumental in the development of Nightingale Housing. By removing developers and estate agents from the equation, they have managed to create a transparent model for urban development which is community driven, reduces the need for air-conditioning, and is more affordable through a business model that is in itself more sustainable.
There is no question that affordability is a hot topic in the housing industry. We all need a home and feel inspired to make it a nice one though that comes at a cost, and in reality our homes are the biggest purchase we will probably ever make, so maximising that investment makes sense. With the growing popularity of granny flats and the rise of multi-generational living we are looking at the landscape a little differently in an attempt to make things a little more financially sustainable, but it isn't just about the bricks and mortar.
Brodie Neill's Gyro table at the NGV in 2016 is made from reclaimed ocean plastics.
A London-based Tasmanian, Brodie Neill's Gyro table is a direct response to our desire to consume with a more sustainable take. Made from reclaimed ocean plastics, again it may seem extravagant but the terrazzo effect he has created is indicative of the global response to waste. Similarly, Alexander Taylor's recent collaboration with Adidas and Parley have turned ocean plastics into 3D printed shoes and the Runs for the Ocean website shows just how far we have come in balancing consumerism with our conscience.
Lake Pieman in Tasmania is a new source of classic timbers with a sustainable approach to business and lifestyle.
Interestingly, energy production has actually produced another sustainable, water-born source of materials in the far reaches of North West Tasmania. Pulled from the man-made Lake Pieman, an array of rare Australian timber species have been rediscovered after being submerged in the process of creating a hydro-electricity station, and fittingly they fall under the name of HydroWood.
Among the underwater forest are Huon Pine and Tasmanian Blackwood, but it is the impact on land that is important. The discovery of these timbers, perfect for anything from cladding to furniture, has resulted in the re-opening of Tasmanian timber mills – not just creating beautiful interiors but also employment for the next generation.
It may seem like more is counter productive across the board, but if we think a little more about the spaces we live in then perhaps we can use a little less and step towards a more sustainable future.
For further information on the timber mentioned contact HydroWood.
WRITTEN BY HouseLab